The Definitive Guide to Finding Mixing Clients and Charging More for Your Mixes
Thanks for checking out my book!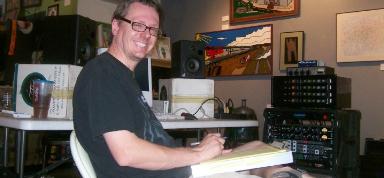 My name is John McKay, I've been the owner of Suitcase Recordings since 2004, and launched Mixoff.org in 2011. I've been mixing and recording most of my life, though I've never had a big hit. I'm like most of you, working with self-funded bands, small indie labels, etc. The good news is, there are more and more bands recording themselves, who need a pro mix if they have any hope of getting interest in their music!
I decided to write this book to help out some of the very talented mixers I've known in recent years, who seem to be having a hard time finding great clients, and getting paid what they're worth.
The ideas in the book are from my own experience, and from things my friends have done, and a few things I've observed the big name mixers do, as well.
The book outlines a simple plan for focusing your mixing business (I recommend choosing a genre and focusing all of your efforts there,) along with all the little things you need to do to create a great show reel, contact bands, build relationships and so on.
You'll learn where to find new clients, and how to set your rates, along with info about best practices for billing, what to include and not include on your website, and more.
So, read the book, and if you find it isn't working for you, just shoot me a refund request, I'll give you your money back, no questions asked.
I don't think you will, though. I'm confident you'll learn some new ideas, and go away excited and ready to get more gigs!
John McKay
Suitcase Recordings
Mixoff.org
What's in the Book?
Here's a short list of topics:
The key things you need to have on your website, and the one thing you should't have (that most do.)
Where to find bands online, and what to say when you do find them.
How to create and grow a relationship with record labels, without sending a show reel.
The one simple trick to creating a great show reel, even when you don't have clients yet.
The one piece of non-recording software you should have before you start talking to bands or labels.
The one element that makes you attractive to bands, that most online mixers don't know.
How to get people to send you clients, including other mixers.
& more!
What You'll Receive
Your purchase includes access to 3 files:
A PDF file for your computer
A Mobi file for Amazon's Kindle
An ePub file for Apple's iBooks App, Barnes & Nobles' Nook, etc.
You'll also receive free updates and new versions for life.
Plus, I have a few plans up my sleeve for buyers, some goodies I think you'll enjoy!
Are You Ready To Get Started?
Click the 'Buy Now' button below, and you'll be reading the book instantly!

Buy 'Make (more) Money Mixing Music' Today! 

$17
Get 'Make (more) Money Mixing Music' for
Free

!

"An investment in knowledge pays the best interest." – Benjamin Franklin

Still not sure? Read the Sample and Table of Contents or the FAQ
"John is one of the smartest and most creative people I know. He always explains things in such an easy way and this book isn't any different" -jalipaz (audioconfusion)